Donald Mackintosh
Year Inducted: 2010
The Life of Donald Mackintosh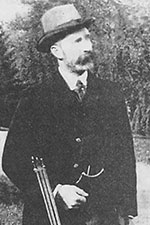 Born 22 September, 1866 at Rockbank near Melbourne. His parents James and Isabella had settled in Rockbank after migrating from Scotland.
Donald learnt to shoot at a young age, shooting rabbits and crows, not long after he first attended primary school, going after them with some black powder, some lead and an old muzzle loader. His mother gave him one schilling each week as pocket money to buy a tin of black powder.
He joined the Bacchus Marsh Shooting Club at the age of 10, shooting his first competition there in 1882. He joined Melbourne Gun Club in 1889 at the age of 23 and within six months was handicapped to 30 yards and remained there for his shooting career.
By 1890 he was dominating trap shooting at Melbourne and travelled extensively throughout Australia to participate in major shoots of the day. He practiced extensively and generally participated in live bird shoots at least 3 days a week. Although trap shooting now dominated his life, he still loved hunting and spent as much time as he could shooting game.
In 1896, he decided that he would travel to Europe to participate in the major trap shoots and to test himself against the best shots in the world. He met with a lot of success and ended up staying for more than a year. He returned home and married Elizabeth Hartwell of Hobart. However he had got a taste of the excitement that was in trap shooting in Europe, so he returned to Europe in 1900, competed in the 1900 Olympic games and stayed for a further 8 years.
At the 1900 Paris Olympics, he competed in two trap shooting events. He was postumously awarded an Olympic gold and bronze medal in 1987.
In 1903, he was the undisputed World Champion, a position he maintained until he retired. He was very successful and won many of the major championships of the time. Some of his wins included major championships won in England, France, Italy, Belgium, Monaco and Spain.
He had one child, a son, Donald James Roy Mackintosh who died tragically from measles at the age of 5 ½ years in Menton, France in December 1907. The death of their son devastated Donald and Elizabeth and as a result he decided to retire from competition and return home. They left Europe by ship from Italy on 23 September 1908.
He was a cultured and well travelled man with a passion for poetry and photography. He photographed Bleriot when he first flew the English Channel. His collection of photographs included leading figures of his era, including Dame Nellie Melba and Henry Lauder. His poetry included a verse for Princess Margaret when she was 4 years old and a poem in 1936 on the life of Rudyard Kipling who was a good friend of Donalds. His poetry was written under the pen name of "The Rambler".
After returning home to Australia, he opened up a gun shop in Melbourne. Donald still continued to enjoy his other passions in life of poetry, photography and hunting.
He was also one of the first people in Australia to recognise the potential of clay targets and is belived to be the first person in Australia to achieve a 100 break on clays. He did this at an exhibition shoot in Rockbank in 1922, which was organised to raise money for the local library. The break was shot using a spring trap with him shooting from 30 yeards.
In the early 1930's in conjunction with Calrossie, Horris James and others he founded the Australian Clay Pidgeon and Trap Shooting Association (ACPTSA), which is now called the Australian Clay Target Association (ACTA). He was the patron of the ACPTSA from 1936 until his death in 1951.
He maintained a passion for international competition and was responsible for establishing what we now know as the "Mackintosh" event, still held today. He donated a trophy in 1939 when the first event took place in England and worked tirelessly to ensure its success. The trophy is kept on display at the ACTA National Office in Wagga Wagga and is the most prized trophy in the collection.
Died: 8 September 1951 at Essendon, at the age of 84 years and is buried at the Melton Cemetery.
Inducted into the Sport Australia Hall of Fame on 15 December 1987.
Inducted into the Australian Clay Target Association Hall of Fame on 13 April 2010.
President of the Kipling Society of Victoria (at the time of his death)
A Poem by Donald Mackintosh
'Later in life for manly fun,
Save your money and buy a gun,
With a gun and a dog and a few fishing rods,
You might be envied by even the Gods'.
References:
Mitchell Library
National Library
Australia and the Olympic Games – Harry Gordon
John Newton
Sport Australia Hall of Fame I.O.C