Charles Bernard Meadway - known as Barney
Year Inducted: 2014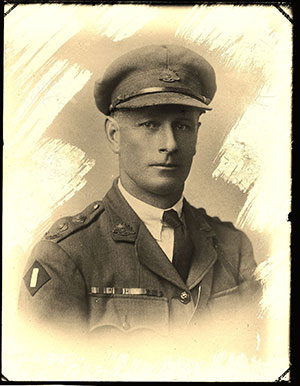 Charles Meadway was born 16 October 1879 at Dunedin, New Zealand. Died - 1 January 1962 at the age of 82 years at Kooyong, Melbourne, Australia.
Charles and his family moved to Australia in 1885 when he was six years old. They lived in Bendigo and then Wangaratta. He was the only son of James Charles Meadway and his wife Lily. He had five sisters. His father died in 1889 after only four years after migrating to Australia and so Barney was left to assist with looking after the family. His early life was as a painter in Wangaratta. He was very athletic and his interests were shooting and football. He enjoyed playing football as a teenager in Wangaratta.
In 1902, Barney enlisted into the 6th Australian Commonwealth horse Battalion on April 26, 1902, when he was 22 years old. He enlisted to serve in the Boer war. However the war ended a month after him joining. He then returned to Wangaratta where he continued to work as a painter and station hand for the next four years.
In 1906, Barney moved to Melbourne and played his one only game of football for Carlton and in 1907 he played for Collingwood. He played rounds 9-11. His time with Collingwood was brief and he was content to head back to the land to concentrate on playing bush football and his shooting.
Before his first Collingwood game, he had been the star of the Wangaratta Easter 'Sparrow Shoot', with the local newspaper saying he had "established a world record, shooting 108 birds without a break".
In 1908 he returned to Wangaratta and was able to find employment as a Station Manager and was very successful in this role.
On September 13, 1915 he joined the Australian Expeditionary Forces with the army and served in World War I with distinction. As a result of his considerable experience as a Station Manager he was promoted to Sergeant prior to embarking for Egypt in November that year. This time he would get to fight abroad that had eluded him more than a decade ago. He was assigned to the AIF Remount unit, whose primary task was the provision, upkeep and transport of thousands of horses vital to the mounted forces and supply lines of ANZAC forces in the deserts of the Middle East. When the war ended in 1918, the huge task of dismantling an army and repatriating thousands of men to their homeland began. Barney stayed on in Europe until July 1919 before heading back to Australia. After the army, Barney led a very successful business life as both a manager and investor. His success allowed him to travel extensively in pursuit of his interests. Barney married Ellen May Shiell in 1937 at the age of 58 years and have no known children.
Barney's shooting career started as a teenager and competed in his first competition at Wangaratta in the late 1890's. He competed regularly in his own district for the next few years gaining experience before commencing his many visits to the famous Melbourne Gun Club in the early 1900's. Barney won regularly through the period 1905 to 1915 but his attention was divided between shooting and football and as a consequence he struggled to win a major championship.
During the first World War he was stationed in Egypt where he was able to pursue his trap shooting, by the time he returned to Australia, trap shooting was his passion. His football career was over and he was dedicated, so he moved to Melbourne and he practiced and competed regularly. He shot regularly against the great Calrossie. He won his first Australian championship in 1920, the first of his six Australian live bird championships. He won the premier live target event, the Australian Pigeon championship three times, 1922, 1927 and 1929.
In 1926, the Melbourne Gun Club held a Handicap with a prize value of $5,000. Reported at the time to be the biggest event outside of Monte Carlo. Shooters from thoughout the world attended and Barney rose to the occasion by splitting the winnings. He represented Australia at the World Championships in Monte Carlo in 1926, 1927 and 1928 and although he wasn't able to win the world championship he was one of the top money winners in each of the three years. In 1928 he went on a world shooting tour which included shooting in England, France, Italy and Monte Carlo with Calrossie and Bill Downie, the other two great Australian trap shooters of the time. Throughtout his career, Barney won more than 50 major championships.
In 1942 at the age of 63 years he won his last major championship, the Commonwealth Mixed Bird event at the old Melbourne Gun Club and subsequently retired from the sport. He was a great story teller and was keen to tell of past stories of some of the greatest shooters of our sport to anyone who would listen. A lot was not written back in the early days but he loved to portray the characters and events that occured in his generation.